Trouble at the Valencommune:

Reviews & Merchandising
Critical acclaim for Trouble at the Valencommune:
"I think you are quite, quite mad."
- Philip Sainty (now himself one of the cast of nijits)

"Egads! How distressing. Reminds me a lot of the whole volume of stories some friends and I passed around during grade 12 philosophy. With such titles as 'The Adventures of Subway Steve and the Polka-Dot Moose' and 'War of the Fruit'."
- Brett Allen

"An amazing tour de farce!"
- Damon er... wait... somebody important and famous, I mean.
---
ACTION! ADVENTURE! SUSPENSE! DRAMA!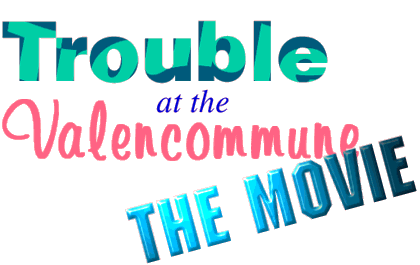 Starring Arnold Schwarzenegger as The Guy Who Wasn't Actually In The Book But We Figured Would Boost Movie Sales!
Coming soon to a theatre near you!
---
new!
Trouble at the Valencommune
ACTION FIGURES!
Now available in stylish bendable plastic! You too can own life-like replicas of the intrepid Piquet, Sage, Kalaleq, Todd, and their friend Christine.
Piquet really becomes a cat! Life-like morphing!
Kalaleq becomes a squooshy blob if exposed to sunlight for over twelve hours!
Sage comes with her own IV coffee bag! Fill it up and watch her go!
Todd's eyes really turn blue!
Christine gets really mad if you break her teacups!
Collect them all!
And for a limited time, we're also offering cuddly Mr. Saaa and Ellen Cairo dolls! Velcro hugs!
Get yours today!
---

---
Return to: The Valencommune
---
Story copyright © 1996-98 by the writers.
Web page design and graphics copyright © 1996-98 by Damon Harper.
All rights reserved.